Return to In-Person Worship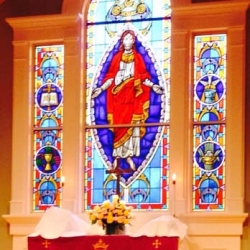 Grace has resumed in-person worship services
(Live-streaming online is also available)






Worship Schedule:

Saturday 6:00 p.m. Spanish Service
Sunday 8:00 a.m. English Traditional Service
9:30 a.m. English Traditional Service (Live-stream also available)
11:15 a.m. English Contemporary Service (Live-stream also available)
12:30 p.m. Spanish Service (Live-stream also available)
Monday 7:30 p.m. English Monday Evening Service
In keeping with government mandates and recommendations, we will be following these guidelines:

All worshipers will be required to enter Grace's facility through the parking lot glass doors.

All worshipers age 5 and above are required to wear masks in Grace's facility. This is in accordance with Governor Northam's requirement for mask-wearing in public buildings, such as houses of worship.

Hand sanitizing stations are available at the entrance to the building and the sanctuary, as well as at other locations throughout the facility.

Upon entering Grace, worshipers should go directly to the sanctuary and be seated.

Those entering the sanctuary first will be directed to sit at the front of the sanctuary. The sanctuary will be filled from the front to the back. Worshipers will also be directed to sit in the pews according to social distance guidelines (singles: 6 feet apart from each other; families may sit together in the same pew). Only every-other-pew will be available for seating (for social distancing reasons).

If the sanctuary reaches Phase 1 seating capacity, the Fellowship Room will be used for overflow seating (with appropriate social distancing). Audio/video of the live service will be available on the large screen in the Fellowship Room.

There will be no worship folders, pens, or Connect Cards available for use during the services. All necessary worship information will be displayed on the screens. Hymnals, songbooks, and Bibles have been removed from the pews.

Collection plates will not be passed. Those wishing to offer a financial gift at worship will be able to do so by using the collection plates positioned at the entrance to the sanctuary.

The services will be shorter than the "usual" in-person services at Grace. This is to allow enough time for the sanctuary to be disinfected between each service.

The sanctuary will be disinfected by Grace's contracted cleaning company between each service. While the services are being conducted, this company will clean all high touch areas and restrooms throughout the rest of the building. The entire GCA hallway will be blocked off on Sundays. The water fountains will also be blocked from use.

There will be no snacks or refreshments served. Sunday School and Bible studies will not meet in-person. There will be no Choir rehearsal. There will be no fellowshipping allowed in the Fellowship Room. For those who wish to talk with others after worship, the parking lot is available for this—with appropriate social distancing being practiced.

At the conclusion of each service, worshipers will leave the sanctuary from back-to-front, in order to observe appropriate social distancing.
Those who are feeling ill, the elderly, and otherwise at-risk individuals are encouraged to continue worshiping via
live-stream
.